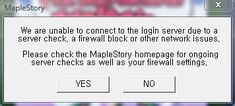 "

Connectivity Issue - We are unable to connect to the login server due to a server check, a firewall block, or other network issues.

"




— MapleStory

This error message may appear for a large variety of networking reasons. Try using the troubleshooting solutions below in an attempt to solve your issue.
Maintenance
Edit
MapleStory may be down for maintenance.
Should MapleStory go offline, the Server status page and server status images will indicate such.
Server Status:
You can also check the MapleStory main page, MapleStory Forums and the news section to be sure that the server is not currently down or undergoing maintenance.
Out of service region
Edit
If you are outside of the Global MapleStory (GMS) service region, you will receive this error.
GMS services anywhere that does not have their own version of MapleStory.
The following countries or regions are known to be outside of this region:
Your anti-virus, firewall, or other security programs may be blocking MapleStory from working correctly.
Although you may have made an exception for MapleStory in the past, it is possible that an update changed enough so that it is no longer recognized by your security software.
For troubleshooting purposes, temporarily disable such programs as a test to see if there is a setting that needs to be adjusted for MapleStory to run properly. Do this even if you have added MapleStory to the exception or ignore list, as you may have overlooked something.
If disabling worked, it is recommended that you properly add MapleStory to the exceptions or ignore list for that security program.
Manual Loopback-Fix
Edit
The Microsoft Loopback Adapter can interfere with the game. If you have played on a MapleStory private server you most likely have this.
On the Start Menu, right click "My Computer" or "Computer" and select "Manage"
In the left side window pane, select "Device Manager"
In the Device Manager window, expand the "Network adapters" section
Locate "Microsoft Loopback Adapter", right-click, then select "Disable" from the context menu

You may have to reboot your PC to see the changes take effect.
If you do not have "Microsoft Loopback Adapter" listed there, then you simply don't have it. Also, all Loopback adapters must be disabled should you have more than one.
Winsock / DNS reset
Edit
Reset your Winsock catalog and flush your DNS cache.

For Windows XP:
Press "Windows Key" & R The Run box should now appear
Type "cmd.exe" in the box and click "OK" The command prompt window should now appear
Type "ipconfig /flushdns" and press "Enter" on your keyboard
Then type "netsh winsock reset" and press "Enter" on your keyboard
Reboot your PC.
For Windows Vista / 7 / 8:
In the start menu search bar, type "cmd" "cmd.exe" should be one of the first things on the list to appear.
Right Click "cmd.exe" and select "Run as administrator" The command prompt window should now appear with administrator privledges
Type "ipconfig /flushdns" and press "Enter" on your keyboard
Then type "netsh winsock reset" and press "Enter" on your keyboard
Reboot your PC.
If you received a permission error, you did not do step 2 correctly.